Everything takes a little longer to hit Nuevo. It's been the same with covid cases. But, the covid cases are here now.
We have a few families in the church that have covid-19, or someone in their immediate family has covid-19. Most are recovering well on their own, but we have had a couple of hospitalizations.
We are not closing the church. But we are trying to be wise, and not cavalier, with the health of those around us.
We are making the following changes for at least the next two Sundays. This two-week change will give everyone long enough to know if they contracted covid at their thanksgiving get-together.
Here are the changes for at least the next two weeks;
No children's ministry or nursery; moms are welcome to stay in the nurseries with their kids.

Youth will be on, following similar safety guidelines as the adults.

Yes, we will ask you to really wear a mask when you're not in your seat. We're not going to have mask police, but remember, the mask says, "I care about you enough to put in this effort on your behalf."

We are going to be more careful about temperature checks. If you think you might have a temperature, please enjoy the service from home.

We will spread the chairs out in the sanctuary again, and we will have chairs and a video monitor outside in the courtyard.

We will be increasing our cleaning and sanitizing procedures again.
Go to calvarynuevo.org for all the ways you can join us online.
If you have any health concerns or are in a high-risk category, we want to encourage you to enjoy the service from home. We hope this increased response is only for two weeks, and we hope to be done with the whole thing soon.
Please be praying for those in the church, and their families, who are currently fighting this virus.
Please call us at (951) 928-8582 if you have any questions.
Praying and working for the health of us all,
Pastor Dave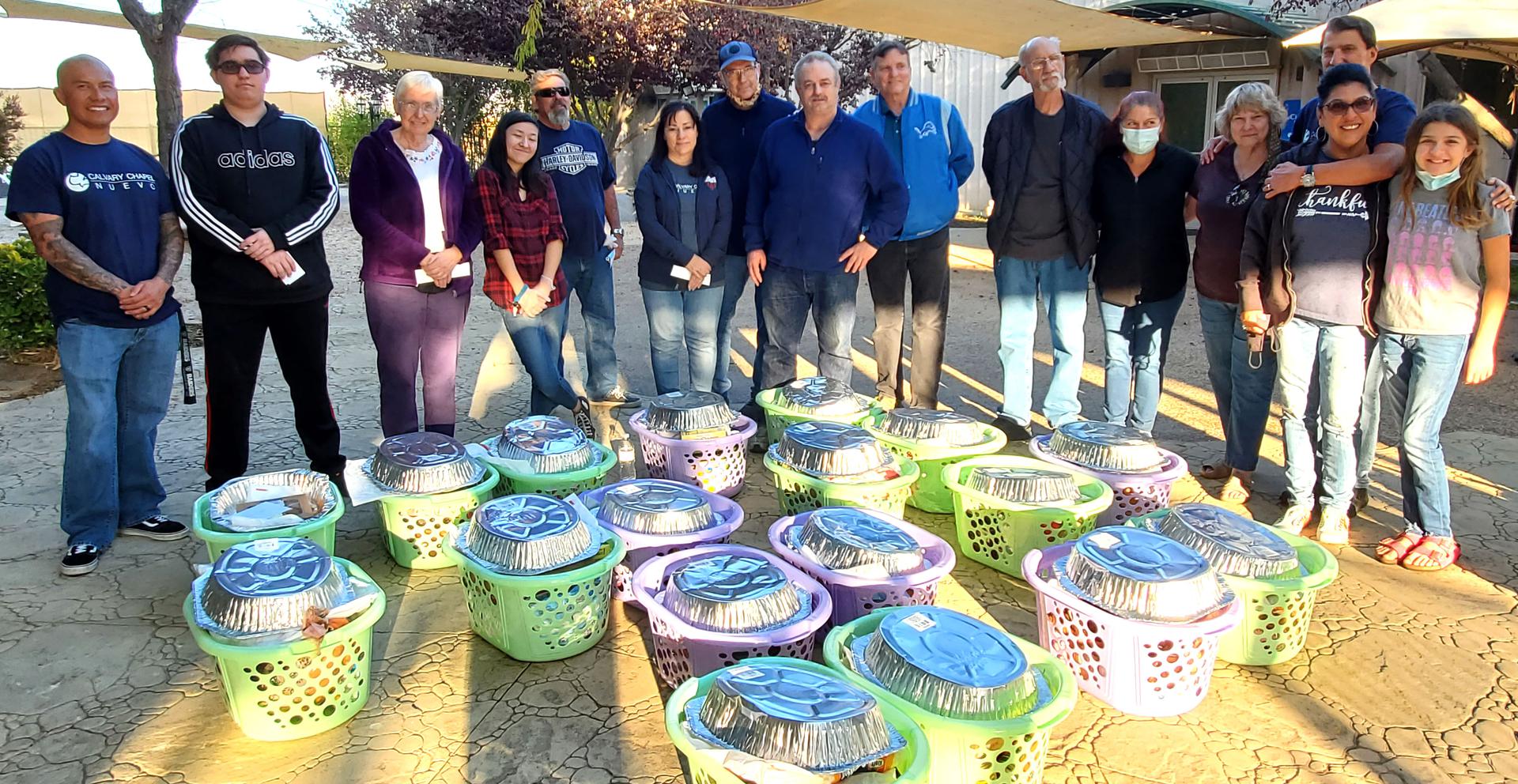 21 Thanksgiving Dinners Delivered
Here is just part of the Thanksgiving dinners we delivered to the community the day before Thanksgiving, along with some of the delivery team.
We want to thank the Lion's club for their help this year in our thanksgiving outreach. It was great to work with them.
We are grateful to God for all he has done for this community through us. It was such a blessing to distribute thanksgiving love in Jesus' name again this year. Thank you to all those involved.